DioMet's Premium Powdercoated Steel Spine Staircase with Oak Treads
Dive into a blend of modern design and durable construction with DioMet's range of UKCA certified metal stairs.
Featured Product:
Enhance your interior space with our 'floating' steel spine staircase, adorned with solid oak treads and contemporary side-mounted frameless glass balustrades.
Pricing Note:
While this listing offers a ballpark estimate, each staircase project has its unique demands. For a tailored solution that fits perfectly in your space, kindly reach out for a bespoke quotation.
Standard Dimensions:
Straight flight, upto 1 metre wide. Assumes attachment to an existing landing or platform level.
Regulation Compliance:
Rest assured, our staircases are UKCA marked and compliant with all UK building regulations.
Key Features:
Steel box section spine, featuring a sleek powder-coated finish in a range of available colours.
Robust 60mm solid oak treads
Elegant frameless glass balustrade, accentuated with stainless steel clamps and handrails.
Convenient pre-drilled oak treads with ferrules for glazing clamp attachment.
Images depict the overarching design. Individual customizations, even non-compliant ones, may reflect specific customer preferences.
Custom Staircase Options:
Illuminate your steps with offset handrails embedded with LEDs.
Add landings or kite-winder treads for specific access needs.
Enhance safety with stainless steel riser infills and non-slip tread nosings.
Oak capping treads available (replacing the stainless steel clamps)
Opt for frosted glass or alternate balustrading. For pricing on these add-ons, please get in touch.
Whats included?
DIY-friendly bolt-together stair kit.
Essential fixings for stair assembly.
AutoCAD drawing service to custom dimensions
10 year product warranty
UKCA certificate
Structural calculations available upon request (extra charges apply).
Delivery Details:
Varying lead times, please enquire for current estimate.
Price reflects collection-only. For delivery options to your postcode please reach out to us.
Standard deliveries are kerbside only.
Staircase Installation Notes:
Our stair kits are user-friendly, but professional installation is recommended. If required, we offer our own installation services.
Upkeep Guide:
Minimal maintenance – a simple cleaning routine suffices.
Oak treads might need periodic retreating.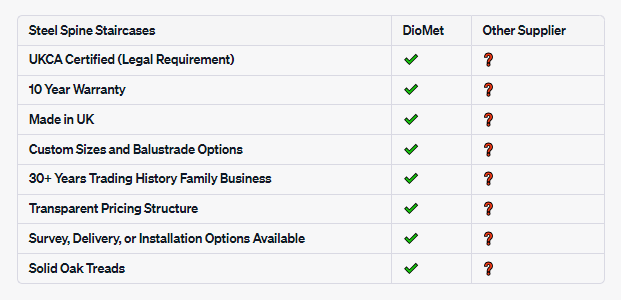 Steel Spine Staircase
£2,400.00

Inc VAT

£2,000.00
Related Products
Tags: steel spine staircase, floating tread stairs, UKCA certified metal staircase, powdercoated stairs, frameless glass staircases