Dio-Met's parapet / cavity wall glass balustrade is a building regulation compliant, fully tested solution for occurrences whereby a roof covering cannot be punctured or the parapet / cavity wall is not suitable to fix to.
The construction of most brick walls is the same; single skin brickwork outer wall, cavity void, blockwork inner wall and topped with coping stones or capping profiles. Unfortunately this poses an installation puzzle not only for retro-fitted balustrades and 'DIY extensions' but this type of wall is also often drawn by architects with a glass balustrade and with no real consideration of how the balustrade might attach; since installing a balustrade bolted to only the coping stones would not be safe.
Any glass balustrade system will only ever be as strong as what it is fixed to, so to achieve the loading requirements set out in BS6180 (0.74kN for an external domestic application) at 1100mm high when fixed to a cavity wall, the balustrade system should be proven by a structural engineer.
The only workable solution, where no other provision has been made for balustrade attachment, is to transfer all the load through a substantial handrail which is in turn bolted back to the main structure of the building and this is where our Parapet Glass Balustrade provides a safe, tested solution. Wherever possible, additional fixings can be added as a custom solution to improve ridgidity.
Fully legal, building regulation compliant UKCA marked balustrade design

Available to purchase online in simple horizontal meterage runs.
Contact us for a bespoke made to measure quotation for any stairs / angled sections / gates etc : 0114 243 9009 or sales@diometonline.co.uk
Construction
120 x 60mm rectangular box section steel horizontal rails
Custom base plates and wall bracketry to suit individual requirements
10mm toughened safety glass with polished edges and radius corners
Maximum span without any central fixing 5.5metres
All base metalwork galvanized and powdercoated
What's Included?
All steelwork, glass and clamps
All assembly fixings included - base fixings sold separately to suit requirements here
Balustrade will be designed and drawn on AutoCAD, to be checked by the customer to make sure it fits.
Structural calculations can be provided on request
How To Order
If your balustrade requirement works out close to a round meterage you can click to buy online using the calculator on the right- Simply select the quantity required and amount of corners involved.
Once you have made an order we will be in contact to discuss the requirement and produce a drawing of what you will receive - from here you can adjust and make any tweaks as necessary and be safe in the knowledge of exactly what you are going to receive and be sure that it fits!
If you have a bespoke requirement please contact us via the enquiry form on the left for an accurate quotation or call 0114 243 9009 for assistance.
Delivery
Please contact us for current lead times as such can vary.
You will be contacted prior to delivering to arrange a suitable delivery weekday to suit yourself.
Installation
Our glass balustrade systems are supplied in kit form and are simple to assemble with reasonable DIY skills
Basic fixing instructions will be provided and we are just a phone-call away if you need more advice!
We can also quote for professional installation.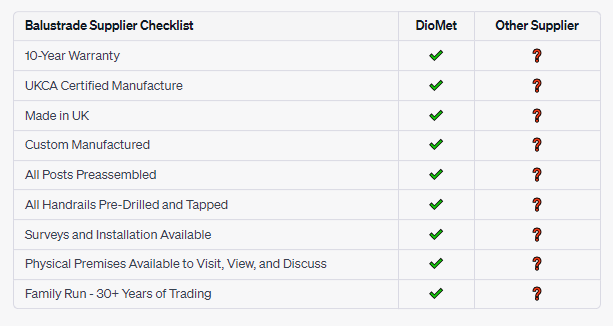 Parapet Cavity Wall Glass Balustrade