DioMet Fabrications Ltd offers a diverse selection of customizable steel staircases, providing options for both DIY enthusiasts and professional installation.
Our standard external steel staircases feature a robust hot-dip galvanized finish, ensuring durability, low maintenence and great weather resistance.
Our metal staircases can be powdercoated finish to add a paintwork colour of preference- often chosen for internal stairs or a higher quality external stair aesthetic.
Please note that our guide pricing is indicative, as most staircases are tailored to individual project requirements. Reach out to us for a personalized, made-to-measure quotation.
Fully legal, building regulation compliant UKCA marked stairs
Key Staircase Features:
Fully compliant with building regulations, our staircases proudly bear the UKCA mark as is a legal requirement of BS1090
Suitable for various applications, including internal and external stairs, load dock staircases, fire escape stairs, access platforms, garden and balcony access.
Manufactured with flat bar stringers and a choice of checkerplate, composite decking or mesh steel treads.
Equipped with twin key clamp handrails for commercial access stairs, simple metal railings or glass balustrades as required.
Stringers are pre-drilled to accommodate the appropriate balustrades or handrails.
What's Included With a Staircase from DioMet?:
DIY kit-form staircase in a convenient bolt-together format.
10 year product warranty
UKCA certification for peace of mind.
Comprehensive fixings for easy assembly (please note, wall or base fixings are not included).
AutoCAD drawings provided prior to manufacturing.
Optional individual structural calculations available at an additional cost.
Delivery:
Lead times may vary; kindly get in touch for current estimates.
Prices are based on collection; delivery charges depend on the product and location—request a quote for precise costs.
Kerbside delivery is standard.
Metal Stair Installation:
Our steel staircase systems are designed for straightforward self-assembly.
For your safety, we recommend installation by a skilled tradesperson.
If needed, we can provide a professional installation quote.
Staircase Maintenance:
Galvanized or powdercoated steel demands minimal maintenance, ensuring lasting quality.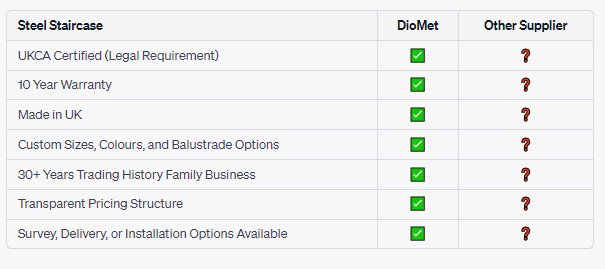 Why Choose DioMet Fabrications Ltd for a Metal Staircase?
UKCA certified steel stairs
10 year warranty
We offer a prompt, courteous, and professional service.
As a family-run business with over 30 years of experience, we bring exceptional expertise to every project.
Our products are renowned for their exceptional quality.
We provide flexible, competitive pricing options.
Choose from DIY kit-form products or professional installation to suit your needs.
Benefit from a wide range of manufacturing capabilities.
Contact us today to discuss your specific steel staircase requirements 0114 243 9009 or sales@diometonline.co.uk
Customisable Steel Staircases
£1,800.00

Inc VAT

£1,500.00
Related Products
Tags: steel staircase, metal staircase, powdercoated stairs, UKCA Certified, staircase fabrication