Ready-to-Ship: Premium Hinged Glass Floor Systems from Stock
Check out our exclusive range of in-stock hinged glass floor systems, meticulously pre-crafted and ready for immediate dispatch or on-site collection. These premium units are a rare find, available right off the shelf and designed to provide access to your space without the wait for our custom made units.
Seamless Sophistication at Your Fingertips
Our stock hinged glass floor frames are an instant solution for those seeking the finesse of custom design without the lead time. Perfect for basement access, wine cellar entrances, or unique storage displays, these systems come complete with a structural walk-on glass panel, securely encased within a steel framework featuring a gas-strut mechanism. This design ensures a graceful, effortless opening and a safe, controlled closing each time you access your underfloor space.
Standardized Excellence for Immediate Installation
The dimensions provided represent the exact recess measurements, ensuring your in-stock unit fits perfectly upon arrival. For these stock items, the longer length typically signifies the hinged side. Unlike our made-to-order offerings, these standard sizes are ready to seamlessly integrate into your designated area, offering a rare combination of convenience, speed, and high-end design. However, full drawings are available upon request for your peace of mind.
Limited Availability: Act Fast!
Given their high demand and limited availability, we encourage prompt enquiries or purchase to secure your preferred hinged glass floor system. For a broader range of options or custom sizes, please visit our Bespoke Hinged Floors. However, if immediate availability and a solution that blends luxury with readiness is what you seek, look no further than our in-stock collection.
Stock Glass Door Hatch Options :
Our ready-made stocked glass floor products are sold as described- we have two different handle styles available, lockable units, non slip treated panels and even our original electric prototype unit for sale. Please check the description in the drop-down menu to see what sizes, styles and specifications of hinged glass floor are currently available. ​
Please note that our hinged walk-on glass trap door systems are not intended for access to habitable rooms, and should be used in dry areas only.
Frequently Asked Questions: Hinged Glass Floor FAQ
Certifications & Standards
Our steel frameworks are fully certified to BS 1090-2, and the glass is designed to a concentrated load of 2.0kN in accordance with BS EN 1991-1-1 2002. These hinged floors are structurally approved for domestic use. The required glass thickness may vary depending on size, location, building use, and structural support. If in doubt, consult a structural glass engineer. It is the customer's responsibility to ensure all purchased products meet their specific building control requirements.
Our glass goes above and beyond industry standards, achieving a Pendulum Test Value (PTV) of 68, far exceeding the minimum requirement of 36+ to be considered low slip risk in dry conditions.
For bespoke variations, please contact us.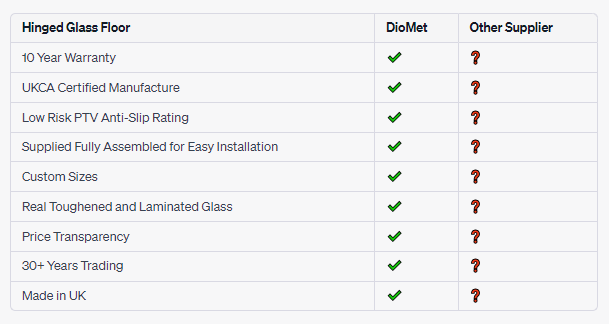 Balancing Customization and Convenience: Our Stock Priorities
At DioMet we deeply value the unique visions of our clients, which is why our custom orders will always take precedence in our production schedule over stock glass door fabrication. We strive to bring personalized elegance into every space we touch, ensuring each bespoke project receives the meticulous attention and craftsmanship it deserves. This dedication to customization, however, means that our capacity to replenish in-stock items is often impacted by the high demand for our tailored services.
Despite this, we recognize the growing market desire for immediate solutions. In response, we're committed to maintaining a more robust inventory of our ready-to-ship hinged glass floor systems moving forward. Nonetheless, the popularity of these premium, pre-fabricated units and our unwavering standard of quality mean that restocking may not occur as swiftly as we—and our clients—might hope. Not to mention once listed, these high demand products are often scooped up rather quickly!
We wholeheartedly appreciate the enthusiasm for our products and advise those interested in our in-stock models to act swiftly upon availability. Meanwhile, we invite you to explore our custom order options, where the same unit or a custom size could be ordered, albeit with a wait for manufacture..
Hinged Glass Floor - Wine Cellar Door (stock)
£1,347.00

Inc VAT

£1,122.50
Related Products