Dio-Met Hinged Glass Floor System
Our original hinged glass floor unit, featuring ring pull handle system for easy access and operation.
Custom-Made Glass Floor Hatch Solutions
Our walk-on structural glass trap door floor systems are tailor-made to fit your floor openings. Each system includes a structural walk-on glass panel fully sealed within a gas-strut opening steel framework. The gas struts ensure effortless opening and safe, slow closing.
Made to Order
Our hinged glass door systems are built to order, custom-made to accommodate your specific opening size. The dimensions you provide should correspond to the exact structural opening size of the floor recess. The frame is designed to overlap your opening on all sides with a self-supporting installation design and built-in tolerance for optimal fitting. Our hinged glass floor systems usually require 6-10 weeks for completion, with economy and express production available. For immediate availability, check out our Stock Hinged Floors or consider an upgrade to our top of the range Electric Motorized Hinged Floor.
Dimensions
Length: Hinged Side (longer side, max 2000mm)
Height: Non-Hinged Side (shorter side, max 1000mm)
Upon receipt of your order, we will provide a detailed drawing based on your measurements for approval before manufacturing.Please request a typical detail which we can provide to assist in advance of your order.
Hinged Glass Floor – Product Construction
25.5mm toughened and laminated structural safety glass panel
Black steel framing and back-painted black glass borders (other custom colours available upon request)
Powder-coated black steel framework with hinged, gas-strut opening mechanism
Flush fitting ring pull handles
Anti-slip treatment for increased safety (invisible to the naked eye, lasts approximately 5 years)
Discreet lock for added security (includes star key for access)
Frequently Asked Questions: Hinged Glass Floor FAQ
Our wakl-on glass trapdoor hatch systems are commonly used for basement doors, wine cellar access, and kitchen storage units. They are not designed for primary access to habitable rooms, and we recommnend users give consideration to the intended application and manage any risks accordingly.
Please note that these frames are not watertight and should only be used internally, in dry areas.
Express Production Service
If you choose our express production option, we will prioritize your order and work overtime as needed. In the unlikley event we cannot meet the promised timeframe, the premium cost will be refunded. Manufacture times start from the date of drawing approval. Learn more about our DioMet Express production service.
Certifications & Standards
Our steel door frameworks are fully UKCA certified ( a legal requirement) to BS 1090-2, and the glass is designed to a concentrated load of 2.0kN in accordance with BS EN 1991-1-1 2002. These glass door systems are structurally approved for domestic use. The required glass thickness may vary depending on size, location, building use, and structural support. If in doubt, consult a structural glass engineer. It is the customer's responsibility to ensure all purchased products meet their specific building control requirements.
Our anti-slip treated glass goes above and beyond industry standards, achieving a Pendulum Test Value (PTV) of 68, far exceeding the minimum requirement of 36+ to be considered low slip risk in dry conditions.
For bespoke variations, please contact us.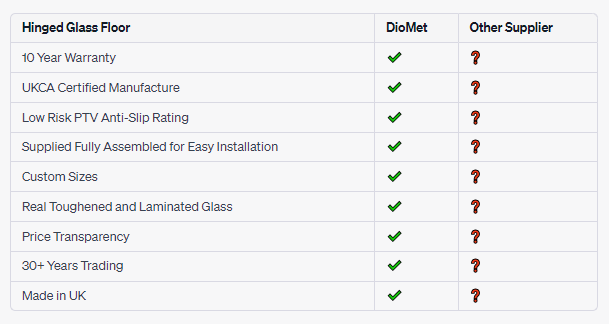 Hinged Glass Floor- Wine Cellar Door - Ring Pull Handle
Related Products