Electric Motorized Wine Cellar Door & Hinged Glass Floor System
Discover Dio Met's bespoke electric motorized wine cellar door and hinged glass floor system, available in various sizes to fit your floor opening. Our motorized hinged walk-on glass floor systems feature a structural walk-on toughened and laminated glass panel, fully sealed within a steel framework and operated with an electric motorized actuator mechanism.
Custom-Made for Your Space
Our electric motorized hinged glass floor units are made to order. Enter the precise opening size of your floor recess, and the frame will overlap on all sides, ensuring a self-supporting installation with built-in tolerance. The frame includes fixing points around the perimeter for secure attachment.
Length: Hinged Side (longer side, max 2200mm)
Height: Non-Hinged Side (shorter side, max 1100mm)
For a more budget-friendly option, consider our manually operated hinged glass floor systems.
Product Features
25.5mm toughened and laminated structural floor glass panel with painted borders
Steel support framework with hinged internal panel, comprising a fully sealed glass panel
Standard black powder-coated main framework (other colours available upon request)
Flush-fitting stainless steel hinges
Electric motorized strut actuators with wiring loops, control panels, and wall switch
Safety key override system and optional remote control fob
Closing sounder for added safety (can be deactivated)
Fully assembled 'Plug and Play' electrics for easy installation
Non-slip treatment for added safety (invisible to the naked eye, lasts approximately 5 years)
Lead Time and Express Production Service
Current manufacturing time is estimated at 10-12 weeks from order, or 8 weeks with our Express Production service. In the event the express production timeframe is not met, the premium will be refunded. Production lead times begin from the date of drawing approval. Learn more about DioMet Express.
FAQs: Hinged Glass Floor FAQ
Our hinged walk-on glass trapdoor systems are commonly used as basement doors, wine cellars, and storage display units. They are not designed for primary access to habitable rooms, and users should consider the intended application and risk management.
The frames are not watertight and should be used only internally in dry areas. A competent builder or tradesperson can easily install the fully assembled units.
Our steel frameworks are fully UKCA certified (a legal requirement) to BS 1090-2, and the glass is designed to a concentrated load of 2.0kN, in accordance with BS EN 1991-1-1 2002. These hinged floors are rated and structurally approved for domestic use. The required glass thickness may vary, so consult a structural glass engineer if in doubt. Customers are responsible for ensuring all purchased goods meet their own building control requirements.
Our non-slip treated glass goes above and beyond industry standards, achieving a Pendulum Test Value (PTV) of 68, far exceeding the minimum requirement of 36+ to be considered low slip risk in dry conditions.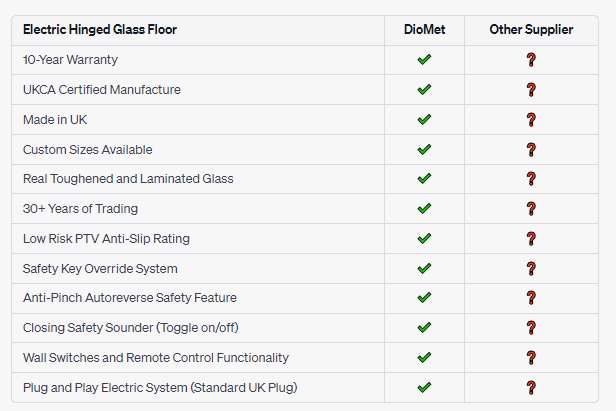 Electric Motorised Hinged Glass Floor - Wine Cellar Door
£3,132.00

Inc VAT

£2,610.00
Related Products
Tags: Electric Glass Door, Motorised Glass Floor, Spiral Stair Hatch, Automatic Glazed Access Door