Circular Wine Cellar Glass Doors
Introducing our sophisticated, custom-made circular hinged glass floor design, perfect for showcasing display areas or as an elegant wine cellar hatch for spiral staircases. Available in diameters ranging from 900 to 1400mm, these bespoke systems feature a partial opening hatch for easy access, and are expertly crafted to suit your specific floor opening dimensions.These custom-made, circular hinged glass floor systems serve not just as sophisticated access solutions to a wine cellar but also as a unique design feature for any space.
Our round hinged glass floor system comes with a structural walk-on glass panel, fully sealed within a hinged gas-strut opening framework. The gas struts ensure effortless opening and assisted safe slow closing for a seamless experience.
Bespoke Glass Wine Cellar Doors- Always Made to Order
These circular hinged glass floor systems are made to order, custom-designed to accommodate your specific opening sizes. The dimensions you provide should correspond to the precise size of the floor recess. The frame will overlap your opening on all sides, offering self-supporting installation and built-in tolerance for optimal fitting. Hinged floor frames and glass typically require 6-10 weeks for completion, with economy and express options available. For immediate availability, explore our Stock Hinged Floors or consider an upgrade to our luxurious Electric Motorized Hinged Floor.
Upon ordering, we will provide a detailed drawing based on your measurements for approval before manufacturing.
Product Features
25.5mm toughened and laminated structural glass panel
Black steel framing and back-painted black glass borders (other colours available upon request)
Powder-coated black steel framework with hinged, gas-strut opening mechanism
Ring pull handle
Non-slip treatment for increased safety (invisible to the naked eye, lasts approximately 5 years)
Discreet lock for added security (includes star key for access)
Custom Spiral Cellar Hatches
Understanding that each space is unique, these circular wine cellar glass doors are custom-designed, reflecting our commitment to meet your specific needs. The provided dimensions are meticulously adhered to, ensuring the frame precisely overlaps your opening, offering self-supporting installation and an optimal fitting.
Frequently Asked Questions: Hinged Glass Floor FAQ
Our hinged walk-on glass trapdoor systems are ideal for basement doors, wine cellars, and storage display units. They are not designed for primary access to habitable rooms, and users should consider the intended application and risk management accordingly.
Please note that these frames are not watertight and should only be used internally, in dry areas.
Express Production
If you choose our express production service, we will prioritize your order and work overtime as needed. In the event we cannot meet the promised timeframe, the premium cost will be refunded. Production lead times start from the date of drawing approval. Learn more about our DioMet Express service.
Certifications & Standards
Our steel frameworks are fully UKCA certified (a legal requirement) to BS 1090-2, and the glass is designed to a concentrated load of 2.0kN in accordance with BS EN 1991-1-1 2002. These hinged floors are structurally approved for domestic use. The required glass thickness may vary depending on size, location, building use, and structural support. If in doubt, consult a structural glass engineer. It is the customer's responsibility to ensure all purchased products meet their specific building control requirements.
Our non-slip treated glass goes above and beyond industry standards, achieving a Pendulum Test Value (PTV) of 68, far exceeding the minimum requirement of 36+ to be considered low slip risk in dry conditions.
For any bespoke variations or further enquiries, please do not hesitate to contact us. Experience the blend of luxury, security, and functionality with our circular wine cellar glass doors, a worthy addition to your refined tastes. contact us.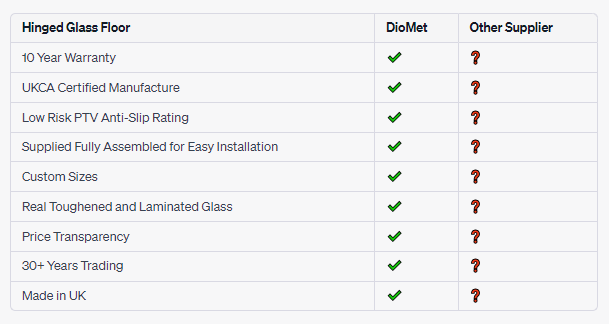 Circular Wine Cellar Glass Hatch
£2,400.00

Inc VAT

£2,000.00
Related Products
Tags: Spiral Wine Cellar, Circular Hinged Glass Floor, Wine Cellar Hatch, Glass Trap Door