Bio Ethanol Fireplace
---
Bio Ethanol Fireplace
"Building an environmentally friendly bio-ethanol fireplace might just be easier than you think and our latest example is a bespoke steel fire insert and feature display which is the centrepiece of our client's lounge area. Full build pictures included…."
What is a bio-ethanol fire?
Bio-ethanol fires are cleaner, safer and more eco-friendly than most wood, gas and electric burning alternatives and a great way to enjoy a real fire in your home. Bio fires are simply filled with your chosen bio-ethanol fuel liquid and ignited. A bio fire will generate heat and warm a room, but are not designed to replace traditional heating methods.
What are the benefits of a bio-fire?
Bio-fires are beneficial for lots of reasons, here's 10 :
Eco-Friendly with clean emissions.
No smoke, unpleasant smells, ash, toxic fumes
Easy to light
Real fire
No flue or chimney required
Allowed in smoke-controlled geographical areas
Cost effective to run
Easy and cheap to install
No cleaning required
Aesthetically pleasing
Dio-Met have recently completed the design and manufacture of a bespoke bio-ethanol fireplace which comprises steel cassette insert with 600mm wide 3 litre capacity fuel tray.
With no chimney in their house and no means of easily installing a flue pipe, our customer came to us for a bespoke fireplace request; to design, build and supply a bespoke bio-ethanol fireplace system.
Once the details had been discussed our customer built a stud-wall framing for the unit and boarded around the area with fire-proof plaster boarding before the bio-fire unit was installed. Installation required little more than placing into place and securing with sealants. The effect is pretty darn cool in our opinion.
Following installation our client's have commented how much they love their fireplace plus how much warmth it provides and kindly sent some completed photographs.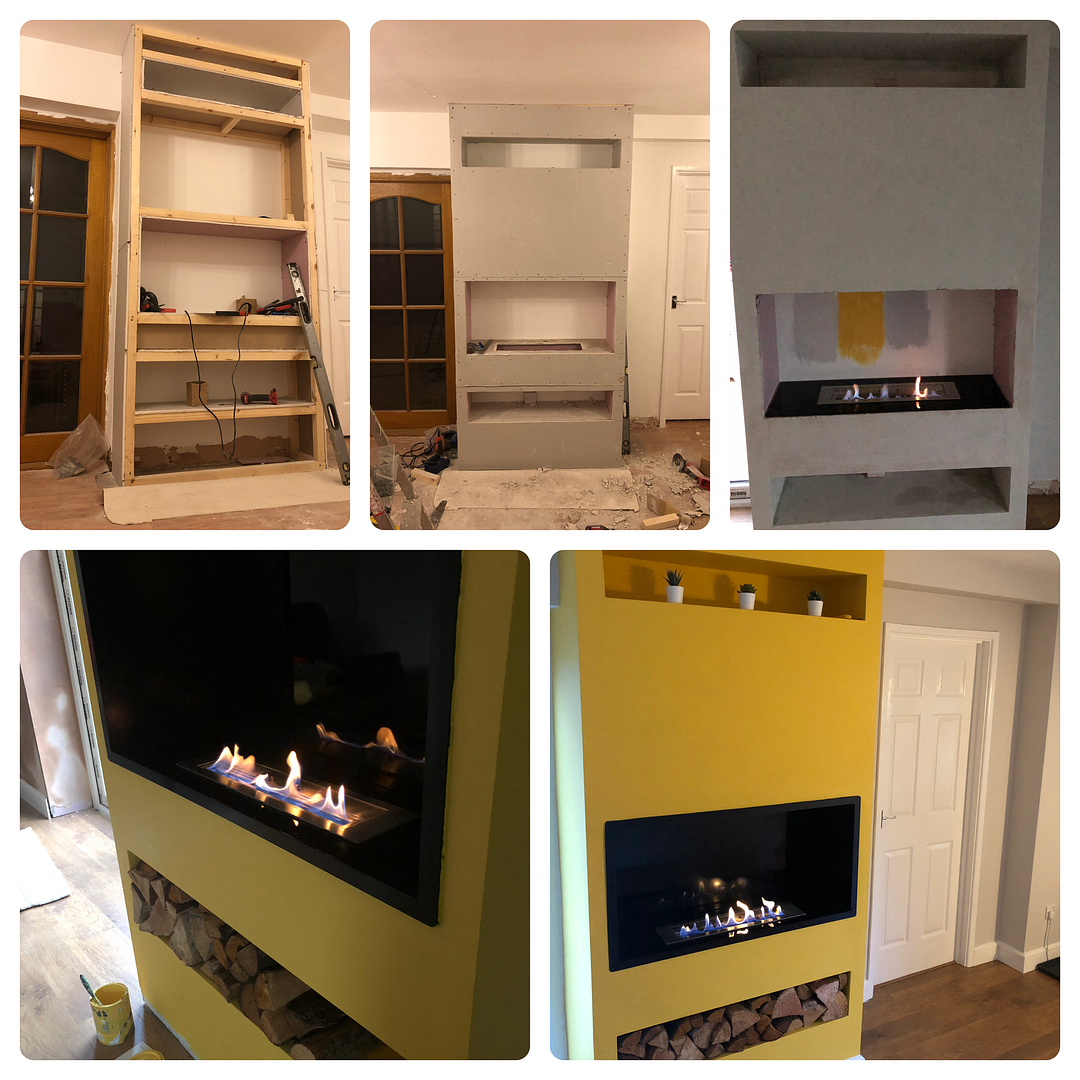 Get in touch with us to discuss your bio-ethanol fireplace requirements on 0114 243 9009 or email us sales@diometonline.co.uk