Testimonials
Below are testimonial reviews and email extracts sent from Dio-Met customers.
Hi Adam and Rob, just to let you know that the build of the balcony went very smoothly, it took me and a friend 2.5 days to complete (excluding foundations). Everything worked perfectly……see attached photo.
We are very pleased with the balcony which is engineered to an excellent standard and looks great. Many thanks for all your assistance.
Kind regards, Geoff S
Very easy to deal with. Very flexible and accommodating. I got a bespoke shape glass floor for a good price. I'm very pleased with the result, and I'll come back to Diomet again.
Dan
Hi Lee,
The Dio met staircase looks fabulous !.
You're guys were very professional and proud of their work. Very quick installation
Many thanks
Mark T
Hi Rob.
Hope you're well?
It's been a long and arduous few years since our idea of a balcony was imagined, but finally we have turned it into a reality thanks to you and your team. I have attached photos of our beautifully crafted balcony. ????
Please feel free to use the photos for any marketing purposes.
Really appreciate your time to make our dreams come true.
Many thanks from a very happy Matt and Tanya.
Hi Sarah,
A few words and photos to say the glass arrived on time and in perfect condition.
Correct sizes as ordered, we are delighted with the finished job- see pic for reference.
Thanks to all at Diomet.
Ida T.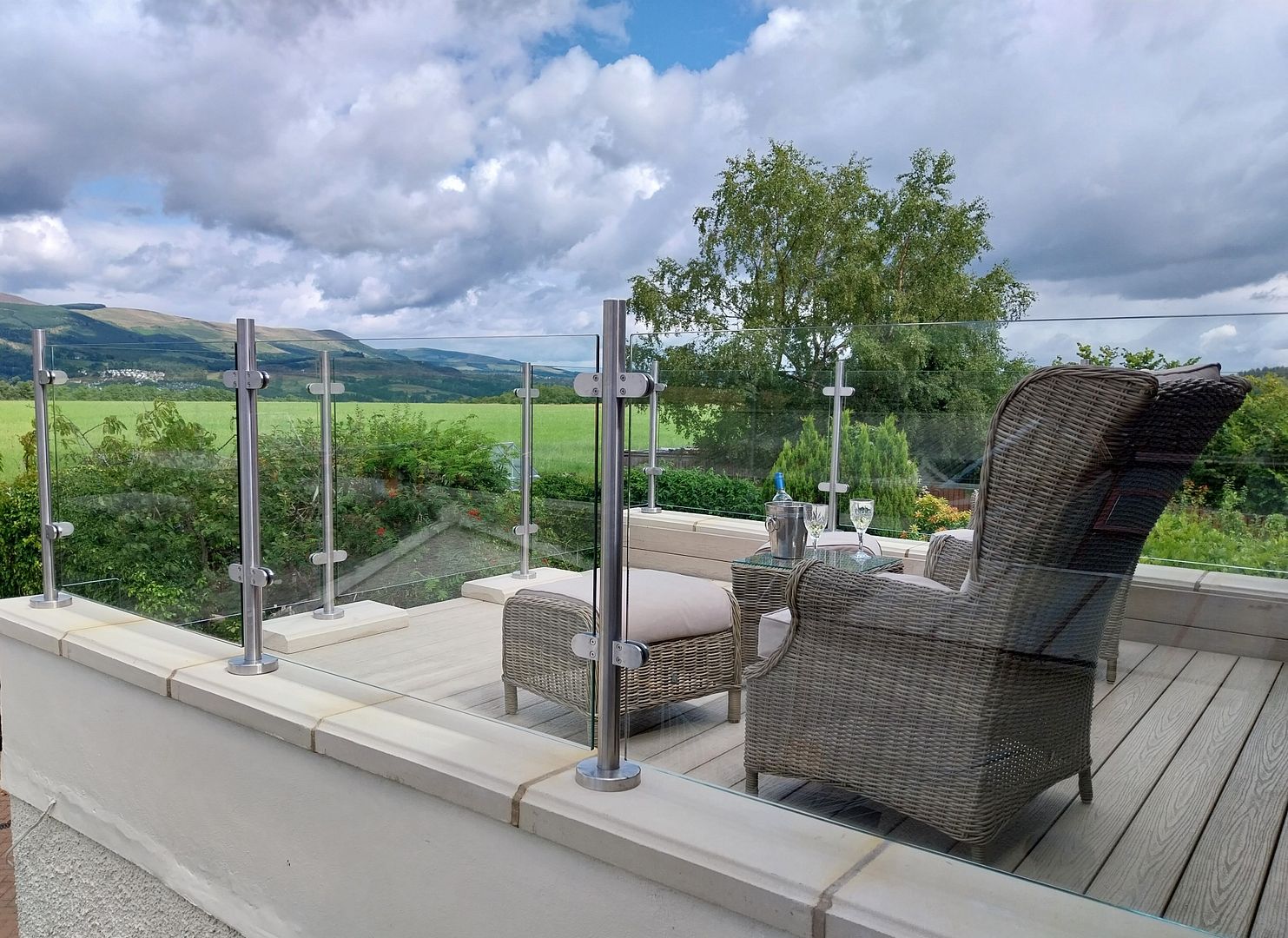 Fantastic company. The quality of their work is top notch and their customer service is extremely helpful and responsive. I bought both my floating stairs from them as well as a large circular cellar hatch, both turned out amazing!
Sam
Dear Rob/Steve and all of Dio-Met,
We wanted to thank you for the fantastic job you did on our custom pergola. We're absolutely delighted with the final result, and it's exceeded our expectations. The quality of the products and efficiency of service were exceptional.
Thank you again for bringing our vision to life.
Best regards,
Angela
We're extremely happy with the result – see attached selection of photos. Let me know if you would like anything else.
Barry
Hi Adam
All Done – Looks really good, say thanks to your guys
Cheers
Neil
Hi Sarah
Just to let you know the manhole cover arrived safe and sound and fitted perfectly.
Excellent product and excellent service, we shall certainly recommend you if opportunities arise.
Kind regards
Martin
Rob,
Just a quick note to let you know how absolutely thrilled we are with the walkout balcony your company has provided. Your customer service really has been second-to-none (and extremely rare in what has been a nightmare of a project with many other contractors!) with speed and professionalism of all corresondence. We pass on our thanks to the fitters too and will provide some great photos once the paving is finished.
Take Care.
Rupert
Adam: here are pictures of our hatch connecting the kitchen with the downstairs space. The build out downstairs is finished now. Everyone loves the hatch, and it gets a lot of attention. Thanks so much for all your help and everyone else at Dio-Met. Best, Chip
Hi Sarah, Our washing line post is up and we are very happy with it. It is sturdy and well made and the instructions for using it are clear. There was a mix up with the courier, but sarah took responsibility for tracking the order down and staying with it until it arrived. As it was it arrived well within the lead time quoted when ordered. We are very happy and would use this company again'
Thanks for your help
Angela
Hello Diomet

I've attached some photos of our balcony fabricated by Diomet and installed by our local joiner.

We're so pleased with the balcony and we think it looks as though it's been there forever! Thank you for our balcony and for giving us the opportunity to enjoy the view from the first floor.

Many thanks

Jenny & Danny
The two fellas have just finished installing my pergola. I am over the moon with it. It has exceeded my expectations, and they were high. My thanks to you and all in the company who have been involved.
Gill R.
Thought you'd like to see some photos of the walk over floor glass you supplied us with, excellent service.
Kind Regards
Stuart A….
Hi Adam, hi Sarah,
We put the stairs up today and they look excellent, we're very pleased with the result.
We laid a concrete slab for the posts last weekend and a steel erector put them up today.
I've attached some pictures, feel free to use them on your website.
You recently did a hand rail and railings in black powder coat for a property on the Isle of Skye, for a ramp up to a door. That was for my in-laws, we've seen pictures of the finished result as they put that up last week. So we've spread the word!
Kind regards,
Peter
Dear Sarah
Thanks for a fantastic product and perfect service. I've attached a couple of pictures of the glass in place.
Regards, Andy…
Hi Adam
Please find attached some photos of the glazed door that was supplied last year.
As you may have guessed from the photos, the cat certainly loves it – feel free to tag him in any posts on Instagram
Kind regards
Charles H..
Hi Steve
Thanks for arranging this. It was great to get the pergola complete, ready for paving stage.
I thought you might be interested in a couple of pics of the final result. It looks great (though it will soon be covered in leaf) and should last longer than me!
Its been a pleasure working with you guys.
Regards,
Roger H
Hi Adam
Some photos of the installed trap door as promised.
We are very pleased.
Cheers
Ian
Hi Adam,
My Wife and I are very happy with the handrails, just what we wanted.
The handrails are not only functional but are also a piece of sculpture which enhances the appearance
of the house.
We have already had compliments regarding the workmanship and design.
I would recommend your companies workmanship and design
to others.
All the Best for the New Year to You and your Men for an Excellent Job.
With Kind Regards,
Sid
Hi Rob
I received the stair parts and everything is spot on , thank you. I have completed the stairs and me and my wife are overjoyed with the result, please see attachments of before and after shots,I will highly recommend your products and service to friends and family
Regards
Mr & Mrs Brennan
Hi there. I hope you are keeping safe and well.
I recently bought a hinged glass door from you, for Gary P... In Nottingham.
We have only recently got round to installing it today.
It is absolutely brilliant and will hopefully look ace when all finished.
Thank you and I hope you have a great Christmas
Gary
Hi there,
You supplied us with a well cover earlier this year…... I just wanted to send you an email to let you know how pleased we are with it. I've also attached a couple of pictures of the well cover fitted.
Thanks so much.
Kind regards
Lucy L..
I am sending you this email to thankyou for the glass hatch you recently produced for me !
I really am delighted with it it excided my expectations the build quality is second to none !
Its pride of place set in my oak floor in my hallway as the entrance to my wine cellar !
Ive attached some photos of it feel free to use them for advertising purposes etc !
many thanks agai James F….
Hello Adam,
Please pass on my thanks to your two colleagues who fitted the glass balustrades this week. They were professional, efficient and tidy, and we are very pleased with the final result!
All the very best,
Catherine
Hi Rob,
Following our recent order with you fir a glass canopy I attach photos.
Your service was excellent start to finish, my profession is a Buyer for a manufacturing company and I wish all suppliers were as efficient as yourselves.
Regards
Angela D
The two fellas have just finished installing my pergola. I am over the moon with it. It has exceeded my expectations, and they were high. My thanks to you and all in the company who have been involved.
When I get all the climbers planted and my patio furniture back on the patio I'll send a photo. Then you can use it on the website if you wish.
Thanks again. Gill
We removed a staircase leading down into a small basement and fitted the walk-on-glass hatch into the floor which was an aesthetic and practical solution. The hydraulic mechanism works really well and we're thrilled with the result. The whole process was very easy and I wouldn't hesitate in giving this company the very highest recommendation.
F. Boyd
Fantastic Adam, thanks.
I've put pictures on Facebook and mentioned you guys. There was a lot of good feedback & We've recommended dio-met to several other people also.
Once the last bit of furniture arrives, I'll email some photos over of the completed project for your website should you want to use them.
Kind regards
Ben F….
Hi Steve.
Your lads have just finished our hand rail and it looks fantastic. They've done a great job, they've meticulously measured and levelled it and it fits superb.
We are so happy with it. If you ever want any photos for you website you're more than welcome.
Thanks again
Ben & Bryony
Hi Rob, Adam and Sarah
Just thought i drop you a couple of pics. We're very pleased with the product quality and the service your team provided. My client (my Mum in this case!) is also very pleased with the result.
Please also feel free to use any of the text above as a reference/review.
Best Regards
Derek
Hi Sarah,
Could you pass this on to Rob Diovisalvi please, thanks.
I've just received the glass well cover (order 8497) and would like to express my appreciation of the outstanding service I've received.
The communications have been excellent - telephone calls immediately answered and emails responded to by return. Plus the progress tracking on your web site and pallet delivery tracking and the delivery date quoted at the time of order has been maintained.
Your staff are obviously a credit to your organisation.
Thanks, regards
Clive W
Just a quick e-mail to say thank you for the work done at my Mum's house this morning.
The rail is of a really high quality and it helps so much when the person fitting it is so pleasant and personably.
I would have no problems recommending Dio-Met to anyone and I am sure you will have at least one more order from that row of houses if not more.
Best Regards
Steve B...
Hi Adam , hope you are well. Just wanted to send you some pictures of our most recent project using Dio-met . Again we are very pleased with your service & the product.
Many Thanks for all your help.
Kind Regards Andy

I have just completed my staircase project involving the replacement of wooden spindles with glass panels. Just wanted to thank you not only for the quality of your products, but also for the excellence of your service and advice making the job so simple for a basic diyer such as me
Regards
Ken D
Hi Adam
Just to let you know having received the Balustrade last Friday I have now fitted it to the deck.
It was total DIY having never done anything like this before and it all fitted perfectly along with the helpful generic instructions.
The end result is a deck that has been enhanced by your very good quality product.
Thank you Dio-Met and I will certainly recommend your product to many of my friends.
Kind regards
Norm
Hi Sarah we received the glass but we haven't checked it yet due to a number of reasons.
Many thanks for all your help, you have been amazing and I hope your boss knows that. We would definitely use your company again.
Best wishes
Heather S…
Hi Adam, We deceided not to put it on the decking after all because of the weight. Sent you some photo's if you want to add them to your portfolio. Just delete if not needed. Really glad we purchased these from you. Many thanks
Paul
Good morning Sarah,
The balustrade I collected last week is now fitted and I am very impressed with it, especially the workmanship on the handrails.
Kind regards,
John R...
Hi Adam,
I have installed the handrails you supplied and thought you may like to see a picture of the result. My wife can now walk unaided to the car and she is very happy!
I may follow up with another order for the rear of our property in due course.
Kind regards,
Tony O…
I bought a balustrade for a raised patio from Diomet and I'm very pleased with both the product and the service I received. The drawings were produced quickly and efficiently and the balustrade was delivered as soon as lockdown restrictions were lifted.
We had a minor problem with the handrails, but Diomet sorted it out promptly. It is a high quality product and we're very pleased with it. I have no hesitation in recommending Diomet.
Thank you Adam and Rob.
Brian G
What a great team of people to work with. I first contacted them over a year ago to enquire about a walk out balcony / Deck with some very very basic photos from google earth. They were so helpful. My dreams came true when the council passed planning permission. Steve came over to my house drew up the plans and structure. We agreed on the work to start in March just as covid lockdown started so had to wait a little longer. It was so worth the wait the team came to site and were so professional. No shouting around the site, cracked on with the work from early morning until around 6pm every day through rain or shine.
I'm blowed away with how good my deck/ balcony looks. We live in a second floor flat ( We own the whole building in-laws live on the ground floor) so having a deck we can walk straight out onto gives us a whole new relaxing option.
I would recommend these guys in a heart beat. Absolutely fantastic.
Jimbo
Hi Adam
Just to let you know having received the Balustrade last Friday I have now fitted it to the deck.
It was total DIY having never done anything like this before and it all fitted perfectly along with the helpful generic instructions.
The end result is a deck that has been enhanced by your very good quality product.
Thank you Dio-Met and I will certainly recommend your product to many of my friends.
Kind regards
Norm
We used Diomet to make a trap door for us to make a wine cellar in our new kitchen diner. This was made to measure and they took great care to make sure the design was spot on before proceeding. The trap door was made in roughly 3-4 weeks, shorter that we were expecting. Upon arrival, all we can say is that we were over the moon. This item was a pure indulgence for us, and all I can say is it didn't disappoint. The build quality and attention to detail is fantastic, I literally couldn't fault it. It came very well painted and packaged really well to protect it in transit. It was very easy to fit, and very easy to use.
We also felt very positive about supporting a local company in Sheffield, and by writing this review I hope to inspire others to use Diomet too. We will certainly use the company again if we ever need a trap door/gate/fence/handrail. Thanks again for a brilliant product!

Thanks again and hope to use Diomet again in the future!
Dave
Hello Rob
I just wanted to email and say how pleased I am with our glass ballustrade and how impressed I was with the two lads who carried out the install yesterday and today. My wife and I were both really impressed with how meticulous they were to make sure the job was just right, whilst also having the time to answer any questions I had. They were polite and once finished, they left the patio spotless.
Please pass on my gratitude to them both, and all to Diomet who were involved in this project.
Thanks
Ben & Sarah V...
Hi Sarah/Adam,
Thank you very much for our glass and your brilliant service. We will definitely use you again if needed and will recommend you to all that we can.
Take care
Kind Regards.
Chris D...
Hi Adam, just a quick thank you for sending the additional grub screws so promptly.

I have to say, I am both enormously impressed with both your company and the product. I had no idea that the fencing would be such a robust product and my brother and I, without any real building experience, were able to put it up very quickly once we got the hang of it. It was certainly made quite simple with the various grub fixings which enabled us to adjust perfectly as we went along. It's perfect for our garden as it looks very impressive without being too overbearing and certainly does the job keeping our dog contained.

I've attached a couple of photos and you are more than welcome to use these and my comments in any testimonials.

All the best.

Robin K
Adam.
Just a quick email to say from the first point of contact to the completion of my stairs went very well and i am more delighted. The service i got from yourself and whoever else was involved in the order no matter how small was great. It was well packaged and delivered on time.
I will certainly be recommending you to other people that might be interested in similar projects.
Once again many thanks
Keith S..
Phil,
My builders who erected my staircase were most impressed with the staircase quality and cost and have just asked for your details.
They occasionally have requirements for balconys etc so you might get some more work from the West Country. Regards Dudley C
Hi Ged,
We just want to reiterate our massive thanks for all your assistance with our stair infill, it looks absolutely brilliant and exactly what we were hoping for. Your service level and product quality was exactly what we expected too after the recommendation from our friends Sue and Paul, exemplary!
Please find attached finished pictures, hope you can make use of them.
We'll recommend you to some other friends who want something similar too!
Thanks again
V x
"Hi Sarah
Just wanted to thank you for the great service with my glass order
Hello,

My bespoke handrails arrived today.

Smashing. Thank you.

Robbie.
Good Afternoon Adam,

….The weather was kind on Saturday and progressed well with the other panels , except one , that being the replacement to the panel which I measured incorrectly from phase one.

This would have been fitted yesterday Sunday before returning home , had the weather been calm and cooperative in leu of blowing a force 5 off the sea.

We will be back again this coming weekend 5th - 7th April , and

" with a fair wind " in every sense of the word the glazing will be completed with that replacement and some photographs taken.

As stated previously , it is Only the Quality Control , Care & Attention in providing a Consistent Pristine Factory Finish to the glass panels ,including the actual packing , prep , and delivery that has been most refreshing to work with such quality materials that any tradesman would be proud of.

This has provided, not only the Proffessional Apperance as required , but has also assisted with enhancement , and justification to the project , and does justice to all the pains taking care of the previous works that have been carried out previously , thus providing the pride and care of the actual installation , from this tradesman.

Thanks Again

Most Kind Regards

Frank.
Hi Adam,

Hope you are well. Just a quick message to say thank you for the system 2 glass balustrade which I ordered recently and am very pleased with (please see attached), so much so that a family member may now be interested in installing a similar product in their garden project. Nishil
---