Glass in Staircases
---
Glass in Staircases
Dio-Met supply toughened glass panels in many styles and thicknesses for residential staircases throughout the UK. The most popular requirement is for our clear toughened glass panels and clamping system to fit between existing timber newels for an easy, quick and modern renovation.
Upgrading a timber staircase with toughened glass panels is a 'bread and butter' job for us here at DioMet as it's one of the most popular, easy and cost-effective solutions to renovating an old staircase.
Traditional timber stairs are often constructed in the same manner with square newel posts, vertical timber spindles and a wooden handrail. Some clients simply remove the old spindles to infill with glass and others prefer to take out the old handrail as well and introduce a stainless steel rail for that higher end modern aesthetic; below are recent examples of both.
Example Staircase 1 :
Our client Tom worked out what he required and ordered everything directly from our webshop (although we do also offer a full design service to assist) including 10mm clear toughened glass panels and associated clamps plus 42mm brushed finish stainless steel tubing and fittings.
Tom kindly emailed through some completed photos and words of praise :
"Hi Rob
I received the stair parts and everything is spot on , thank you. I have completed the stairs and me and my wife are overjoyed with the result, please see attachments of before and after shots,I will highly recommend your products and service to friends and family
Regards
Mr & Mrs Brennan "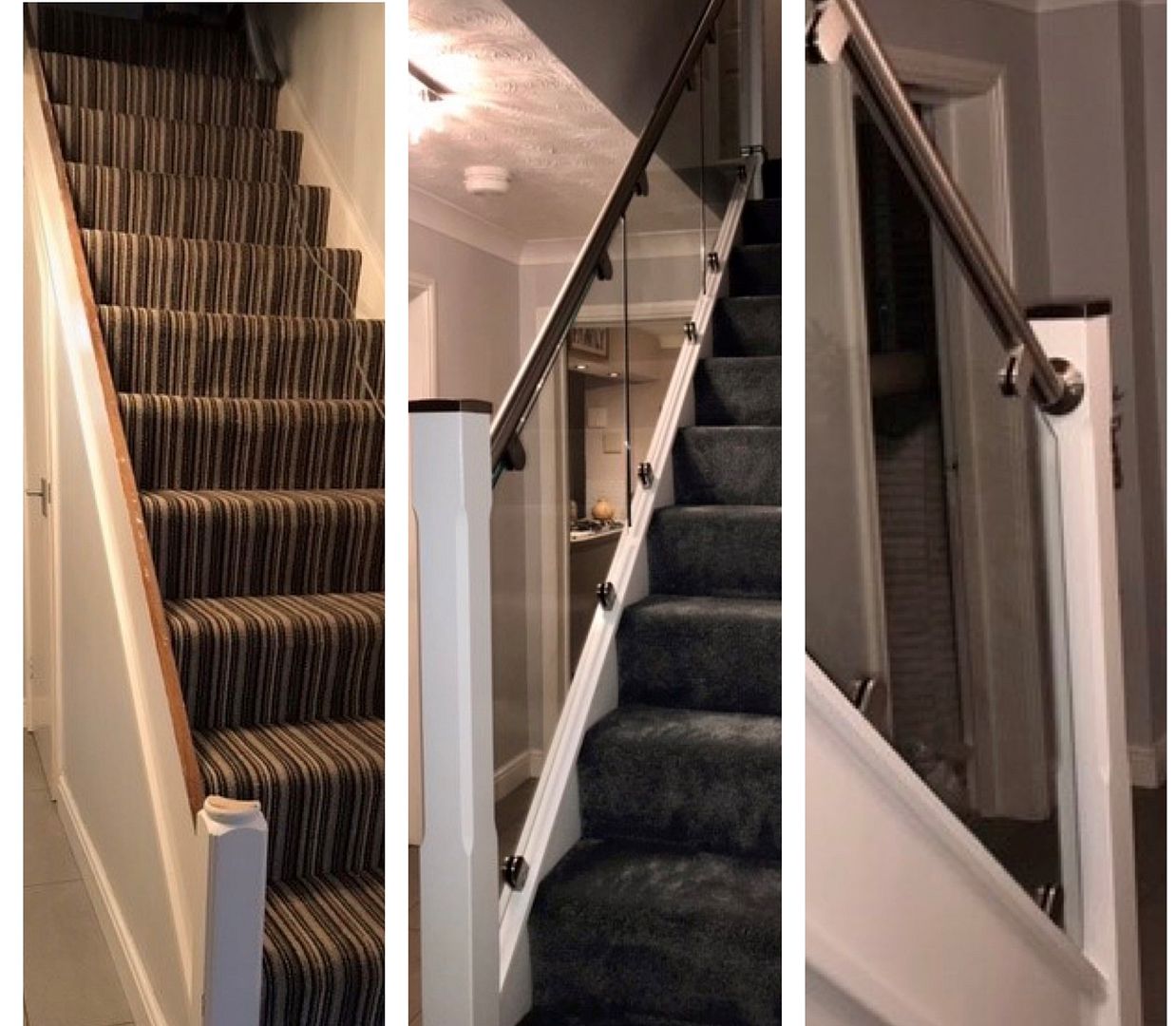 Example Staircase 2 :
Similar to the above example, this glass staircase also uses our 10mm clear toughened glass panels in conjunction with stainless steel clamping brackets although instead of a tubular handrail uses instead a 40mm square section handrail which offers a more contemporary look. Christmas decorations by others!
Example Staircase 3 :
Our third example is most typical of those customers looking for the easiest and most cost-effective solution whereby the existing handrails and newel posts are in place and repainted and the upright spindles removed and replaced for toughened glass. The glass in this example was sandblasted with clear viewing panels as per the customer design requirement.
Example Staircase 4 :
Our final example is one which is also very common whereby the whole staircase is removed and replaced by a joinery firm and our glass panels used to infill the space. This option offers the cleanest finish but often the most expensive and intrusive therefore is generally most suited to larger scale house rennovations where all carpets and other finishes are also being upgraded.
All our glass panels are made to order and can ordered online here : Toughened Glass Panels.
If you require assistance in ensuring angles are correct and the glass is sized / spaced evenly then please contact our sales team.
Get in touch with us to discuss your glass staircase requirements on 0114 243 9009 or email us sales@diometonline.co.uk