Glass Floor Balcony- Milton Keynes
---
Glass Floor Balcony- Milton Keynes
"A walk out balcony with frameless glass channel balustrade and walk-on glass floor panels has been completed for our client Robert in Hartwell near Milton Keynes. This walk on balcony and glass balustrade design is modern and contemporary and adds useable space for the property in style…."
Dio-Met supply and install walk-out balcony systems with glass balustrades all over the UK and our latest example balcony was completed for our customer Robert in Milton Keynes and supplied for self-installation.
The walk-out balcony design chosen was a galvanized and powdercoated steel structure with supporting corner posts complete with our frameless glass channel balustrade System 4 using clear toughened safety glass with stainless steel slotted handrails. The flooring on this balcony was a mixture of composite decking towards the rear edge of the balcony and clear walk-on structural glass panels to the front.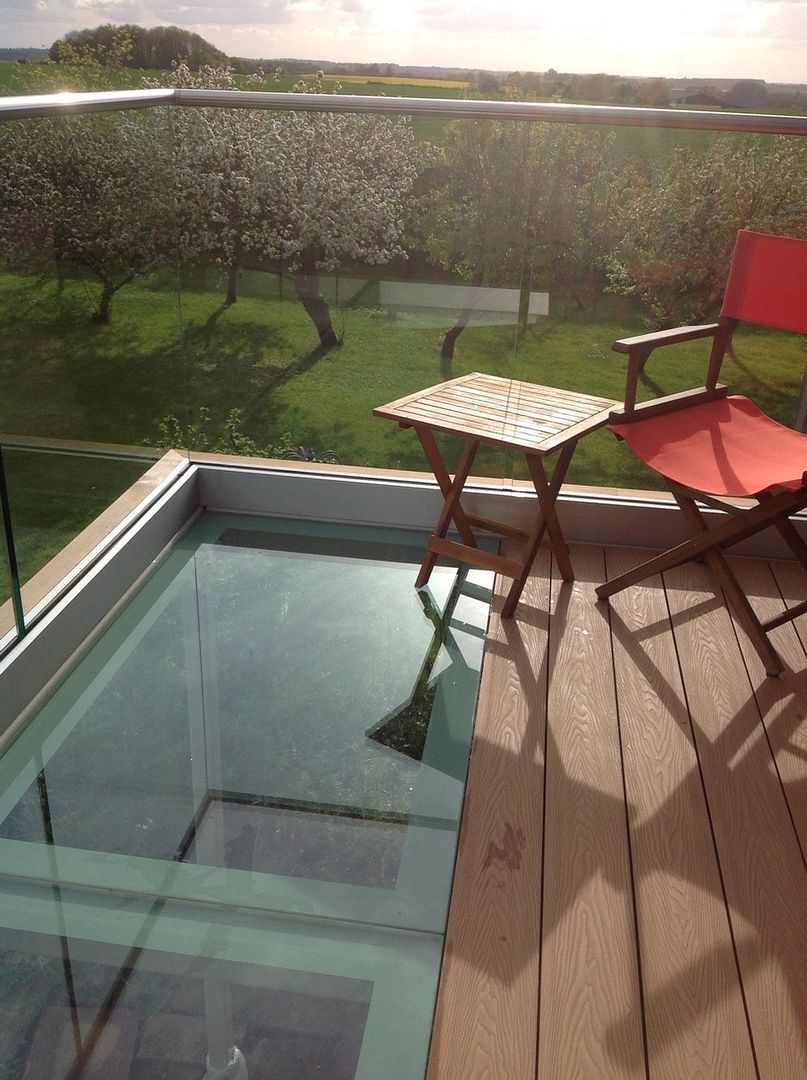 Using walk on glass floor panels in a walk-out-balcony is a popular option for many customers who have a double set of opening French doors, one above the other. To complete the balcony floor in full decking would darken the area below by blocking out light and potentially darkening the room underneath, however using glass can allow light transfer without compromising on balcony space.
Robert also requested the steel ring-beam be drilled and tapped in order that he could attach his own timber cladding to match the property façade detail. This balcony cladding helps to further soften the balcony aesthetics and helps it to blend and match seamlessly with the building.
The whole balcony was supplied in kit form and delivered to Robert for self-installation (or installation by his own builders) and he was kind enough to send a note of thanks, and some completed photos which we think looks pretty awesome!
As with all our metalwork we only ever use our own fabricators to manufacture our CE-marked walk-out balconies. All our metal and glass balcony and balustrade systems are designed by our in-house technicians, fabricated in our Sheffield workshops and either delivered or installed nationwide.
Get in touch with us to discuss your walk out balcony, glass flooring or glass balustrade requirements on 0114 243 9009 or email us sales@diometonline.co.uk