Frameless Glass Balustrades Sheffield
---
A Multitude of Frameless Glass Balustrades in This Impressive Sheffield Residential Development
In Mosborough, a serene suburbs of Sheffield, a stunning residential development project recently unveiled a modern marvel in architectural design and safety. As part of the development, we have meticulously installed circa 80 meters of frameless glass balustrades to terraces, balconies and patios around the property and gardens.
If you have a frameless glass balcony or balustrade requirement for your property, don't hesitate to contact us at 0114 243 9009 or sales@diometonline.co.uk. Our team is always ready to help you create the perfect solution for your space.
A Seamless Transition – Frameless Glass Balustrades
Our frameless glass balustrades are the epitome of modern design, providing uninterrupted views that blend the indoors with the lush landscapes beyond. The use of toughened and laminated glass not only ensures safety but also adds to the aesthetic appeal of the property. Residents can enjoy the panorama without any visual barriers, creating a sense of infinite space- particularly impressive when combined with countryside views.
Toughened for Safety – Laminated for Assurance
The glass we employ is not merely for show; it is toughened and laminated, meeting the highest standards of safety and resistance as is the requirement of BS6180 and building regulations. This dual process ensures that each panel is robust against impact and resistant to shattering. Should the glass break, it would crumble into granular chunks, far less dangerous than jagged shards, while the laminate holds the pieces together, maintaining structural integrity and preventing potential accidents. This type of glazing negates the requirement of a handrail for the application.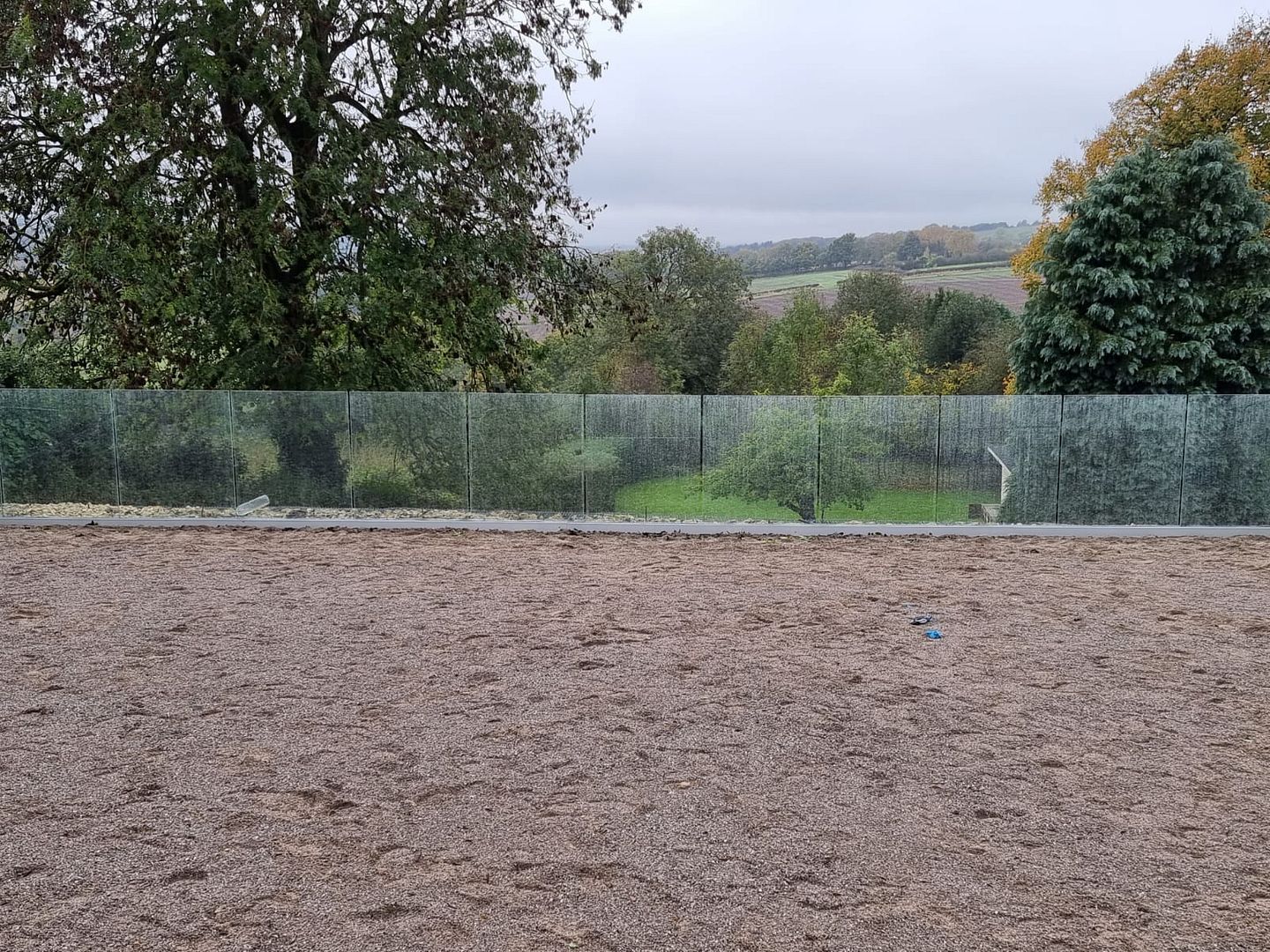 Privacy with a Modern Twist – Frosted Glass Screens
Privacy is a luxury, and our raised frosted privacy screens offer just that without sacrificing light or style. These framed additions provide seclusion for balconies, ensuring residents can enjoy their outdoor spaces without the gaze of neighbors. The frosting diffuses light, creating a soft ambiance that enhances the tranquil atmosphere of the development. Such raised, opaque privacy screens are generally a requirement of planning applications but often serve as a convenient wind barrier and dual purpose product.
Detail in Design – Black Powder-Coated Channels
Each pane of glass is set within black powder-coated channels on the balconies, which not only secures them in place but also adds a sleek, contemporary look to the structure. This detail not only complements the stonework of the residential units but also ensures longevity against the elements, maintaining its pristine appearance over time.The framed privacy screens are powdercoated to match for a seamless transition.
Installation Ease – No Afterthoughts- A Nod to The Builders
In a testament to foresight and precision, the main builder of this Sheffield development has meticulously backfilled all walls with concrete, creating the ideal surface for balustrade installation. This crucial step, often overlooked in construction, ensures a robust and seamless fixing for the glass balustrades that many projects lack. Unlike other developments where balustrades are an afterthought, potentially leading to compromised aesthetics or additional support requirements, here every detail has been carefully considered from the outset, guaranteeing not only the integrity of the installation but also enhancing the overall design coherence and durability.
A Commitment to Quality and Client Satisfaction
From the initial design to the final installation, our focus has remained steadfast on delivering quality that speaks for itself. This project in Sheffield showcases our dedication to creating spaces that are not only safe and functional but also exquisitely designed. We believe that every detail counts and that the right balustrade can transform a simple balcony into a statement of luxury and refinement.
We take pride in the trust placed in us by the developers of this residential project, and we are thrilled to see our work stand as an integral part of these homes. Our frameless glass balustrades and frosted privacy screens are not just products; they are the embodiment of safety meeting style, a signature of our brand's promise to deliver the best.
Please
login
to Comments